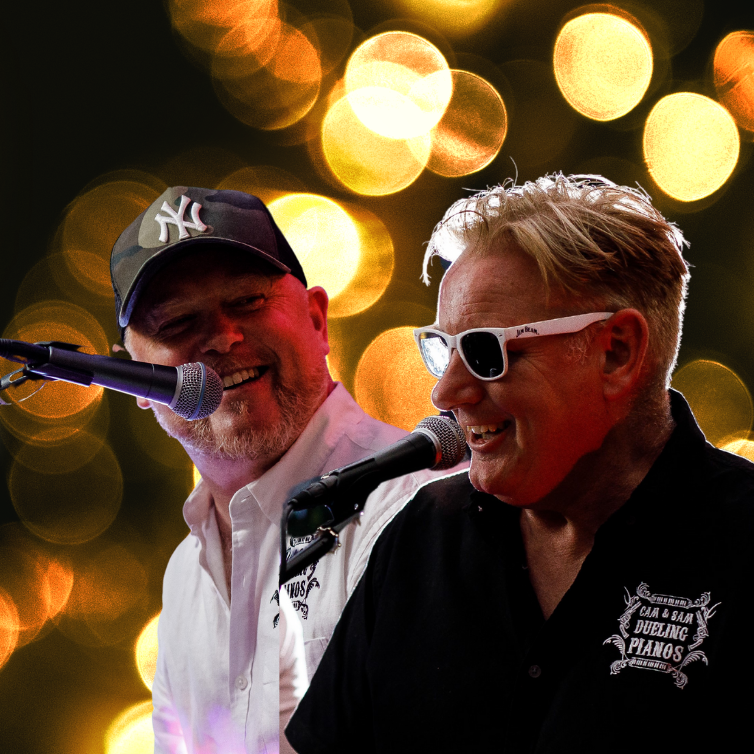 NZ's Award-winning dynamic duo!
The perfect choice for your next event, party,  wedding or corporate function
Cam & Sam come from a long background of live music performance in NZ and overseas, and in 2017 met and formed a dueling pianos partnership.  Cam & Sam have developed into one of NZ's favourite live party performers, with both their Dueling pianos' request show and the award-winning 'Elton John vs Billy Joel NZ Tribute' being much loved.

Both Cam and Sam bring a wealth of talent and experience to the stage, having seen music from their various projects performed on television, commercial radio, and charting in the Official NZ Music and NZ Indie Charts.

In May 2022 they were chosen to perform some tunes live to the nation on TV3's Am show to promote Wellington's Eat, Drink, Play festival,
and went on the win the best act (Best in Play) at the 2022 Wellington Hospitality awards.

These two have been lucky to work alongside many talented NZ and international musicians and performed on some of New Zealand's largest stages.

Regulars on the live music event circuit, Cam & Sam combine several nights a month to perform their popular 'Cam & Sam Dueling Pianos' request show.  A NZ tour with their Elton John vs Billy Joel 'NZ Tribute' is underway, with ticketed shows booked and already selling well in several centres.

Key highlights & achievements.

*'Elton John vs Billy Joel NZ Tribute' by Cam and Sam - Winner of Wellington Hospitality's best show in festival 2022.

*'Elton John vs Billy Joel Tribute' Performing live on breakfast television for TV3's AM show.

*'Cam and Sam' Performing at the Tulip / Spring  Festival 'Whanau day' Wellington Botanical gardens sound shell.

*'Cam and Sam dueling pianos request show' Opening for 'Summer Thieves and Francis Kora' on the Corona Summer tour in Wellington.

*SOLD OUT EVENT -  'Elton John and Friends' Performing at Iron Horse Miramar, Playing the Hits of Elton John, Billy Joel, David Bowie, Neil Diamond, Bruce Springsteen, Johnny Cash, Ed Sheeran and more.

*SOLD OUT EVENT - Booked and performed our 'Elton John vs Billy Joel' NZ Tribute Show, for Wellington's Eat, Drink Play month long festival, at Panhead Wellington.

*'Cam and Sam' booked for headline spot Wellington 'Highlight' Festival of Lights. 2022/2023

*SOLD OUT - Makara Community, school fundraiser, August 2022.

*'Cam and Sam' performing for a National Guinness beer promotional event.
* Performed over 170 paid gigs and counting around New Zealand as a Duo since 2017